This one is fuckin creepy lol.....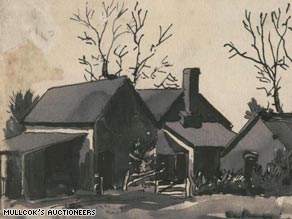 "Deserted Farmyard" was one of the watercolors on sale.

A painting by Adolf Hitler sold for almost $15,000 Thursday -- more than six times as much as expected.
The watercolor was one of 15 items of Hitler art being sold at auction. Together, the artworks by the Nazi leader fetched almost $120,000.
They had expected to raise just under $50,000, auction house Mullock's of Shropshire estimated.
Many of the pictures were on the market because one of the sellers wanted money to install a new central heating system in his house, a spokesman for the auction house said.